Wall Protection Rails by MBT
It is difficult to select which type of wall protection method is suitable for you. Approaching wall protection is a complete line of products and custom solutions that are based on a system.
Whether to maintain a hospital, school, laboratory or any store wall damage is a common. Having to replace plasterboard, fill in holes and repaint surfaces on a regular basis soon adds up, and look after the damages, after the damage again same procedure.
We suggest you, Wall Protection Rails which are effective and efficient way of protecting those walls.
MBT offers different wall protection rails: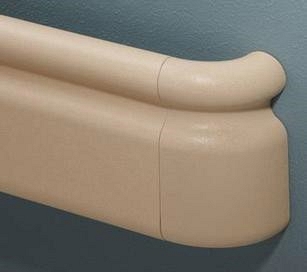 Handrails are commonly used while ascending or descending stairways and escalators in order to prevent injurious falls. Handrails are typically supported by posts or mounted directly to walls.
Crash and bumper rails are designed to provide an impact-resistant barrier to damaging carts, beds, and chairs - making crash and bumper rails suitable for high-impact areas.
These wall protection rails, crash rails, or bumper rails, play a vital role in protecting walls as they dissipate impact energy along the length of the rail, without compromising the wall fixings. Crash rails are designed to provide impact protection in areas that are most prone to damage from objects such as medical carts, hospitality trolleys and waiting room chairs. MBT crash rails are available in many formats: Stainless Steel, Rubber, Timber or as per the requirement. A variety of colours, finishes or aesthetic combinations are offered along with a wide range of heights, depths and standoffs. With such a wide range of possibilities, it's easy to meet project requirements.
Modern Building Technologies Technical Services provides handrails in an endless variety of PVC, wood, colors and combinations of handrails to fit every budget and facility.